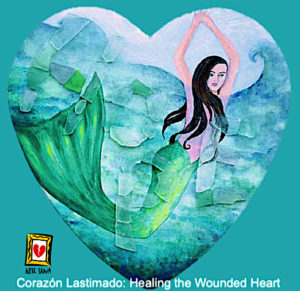 The Corazón Lastimado: Healing the Wounded Heart survivor art exhibit will be on display at the National Sexual Assault Conference.
This unique exhibit uses wooden hearts as templates to offer visual testimony to the impact of sexual violence in our lives. The first exhibit in March 2001, was a collaboration between Arte Sana, sexual assault programs in Texas, and La Peña Latino Arts Organization.  Over 165 survivors of sexual assault, victim rights advocates and artists from Texas, the U.S., Mexico, and Argentina participated in three Corazón Lastimado survivor art exhibits in Texas, and the exhibit has been replicated on college campuses, by victim assistance agencies, and state coalitions across the nation.
Use the #CorazónHealingHearts hashtag via Facebook or Twitter for updates during NSAC.