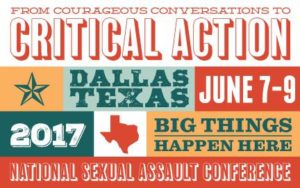 A Conference for People Who Want to End Sexual Violence
The Texas Association Against Sexual Assault will be hosting the 2017 National Sexual Assault Conference (NSAC) in Texas for the first time. The purpose of the conference is to provide a national training opportunity for 1500+ workers from rape crisis centers, state sexual assault coalitions and other allies (medical professionals, law enforcement, campus rape crisis programs, public health department workers, and others) from across the United States and its territories. Registration opens February 8, 2017.
NSAC features a wide range of workshop topics suited to the diverse audience.  Minimally, tracks include sexual assault prevention, trauma recovery, legal issues and advocacy, reaching underserved communities, leadership development in underserved communities, and management and policy.  This conference is the primary opportunity to showcase best practices in the field and connect the work of leaders and workers across the nation in the effort to end sexual violence and reduce the trauma experienced by survivors. 
History
In response to the anti-sexual violence movement's need for training on effective services, model programs, innovative practices and research findings, the Pennsylvania Coalition Against Rape (PCAR) initiated the Mid-Atlantic Sexual Assault Conference in 2003.  It was clear by the national response to this conference that the name did not reflect the audience, so in 2005, PCAR organized the National Sexual Assault Conference (NSAC).  Initially this was a bi-annual event.  In 2010 and 2013, NSAC shifted to an annual conference through a partnership with the California Coalition Against Sexual Assault (CALCASA) hosting in Los Angeles.  Each year after 2010, CALCASA and PCAR have alternated the responsibility of hosting. The Texas Association Against Sexual Assault (TAASA) was invited into the rotation and will host the National Conference for the first time in 2017 working closely with CALCASA and PCAR.
Past NSAC Resources